My favourite thing at the Cactus Club is their Teriyaki Chicken Rice Bowl. Recently, I tried a Dragon Bowl at Brown's with tofu instead of chicken and it was equally delicious so I thought to myself…self…it's time to figure out how they make that. So I went trawling the web and it was no big surprise to find that I'm not the only one trying to figure out that special combination. I found three recipes with variations and I've made a few changes of my own. I'm pretty pleased with the result but if one of the other recipes appeals to you by all means go for it. I promise I won't be offended. A special thinks to my fellow bloggers for doing all the heavy lifting…my tummy thanks you.
This recipe is pretty labour intensive BUT it has lots of leftovers and it was pretty good. Next time I will add more teriyaki and be a little more heavy handed with the Sriracha in the yoghurt sauce but it did receive the "Carnivore seal of approval" so that's good enough for me. The stir fry has tofu in it but you could ditch that or replace it with stir fried chicken if you are so inclined.
My version is as follows:
Braised cabbage (courtesy of  Rainy Day Dish's Teriyaki Chicken bowl…with a twist). Gottah say this stuff is awesome if you like pickled things.
Spicy Yoghurt Dip (combination of Rainy Day Dish, Tales from a Kitchen, and the Hungry Nomad – thank you fellow foodies!)
Freaking Delicious Tofu  (courtesy of the delightful Michael Natkin and his Freaking Amazing food blog Herbivoracious Tofu 101  )
2 Grated carrot (courtesy of my crisper drawer)
1/2 c. Cashews
1 can sliced water chestnuts, drained
1 red, yellow and orange pepper cut in bite sized chunks
2 small zuchinni cut in 1/4″ slices
1/2 a sweet white onion (or whatever type of onion you happen to have)
Cooked rice (courtesy of my rice cooker…thank you Betsy)
1/2 c. Thick teriyaki sauce (I used Golden Dragon Thick Teriyaki but the blogs I've mentioned above all have home made sauces if you want to try them out – they are probably healthier but require a bit of extra futzing and I was futzed out)
NOTE: I made the braised cabbage and the spicy yoghurt the night before.
Braised Cabbage
1 small head red cabbage, cored and whizzed through the Cuisinart (I love my kitchen appliances sometimes…beats the hell out of all that chopping)
1 apples, cored and grated via Cuisinart (I was too lazy to peel and cut in to match sticks…I figured the apple was going to break down in the braising process anyway so why bother making it all purty-like before hand).
1 Tbs butter
½ red onion, sliced thin or….whizzed through the Cuisnart (guess which I did…)
1/2 c. white vinegar
¼ c. brown sugar
¼ c. water
Salt & pepper to taste
Put all the ingredients into a good sized pot and bring to a boil. Once boiled, reduce heat and cover. Stir occasionally until tender (takes about an hour but if in doubt taste it).
Spicy Yogurt Sauce
Note: You can buy the spicy yoghurt sauce at Cactus Club but I thought I'd give it a go making my own (plus I am too lazy to get in the car and drive all the way to Cactus Club). Now…all the recipes I found called for ranch dressing but I bet it would work just as well with creamy cucumber. However, this time I did use President's choice low fat ranch dressing (it was on sale).
1 c. plain Greek yogurt (OK if you MUST use low fat then you must)
1/4 c. ranch dressing (or creamy cucumber if that's what you have on hand)
1 Tbs lemon juice
¼ tsp cayenne pepper
1/4 tsp paprika
pincd of white sugar
Black pepper to taste
Shot of Sriracha sauce (or any ol' hot sauce will do) to taste
Mix ingredients together and let sit for at least 1 hour so the flavours blend. Refrigerate until ready to use.
Start your rice. I use a rice cooker so it's 1:2 rice to water, close the lid, push the Quick Start button and carry on (I love my rice cooker). If you don't have a rice cooker time your rice so that it's done by the time you've completed your stir fry.
Tofu
Cut extra firm tofu in 3/8″ slices and cut in half so you have squares. Soak in boiled salt water for 15 minutes. Drain and pat dry well (if you don't you are going to have your pan spitting at you…just take my word for it). Heat a couple tablespoons of vegetable oil (or something with a high smoking point) in a cast iron pan (if you have one). place half the slices in the pan (don't crowd) and fry until one side is golden brown. Turn carefully (hot oil spatters hurt!) and fry until the other side is golden brown. Remove from pan and let drain on paper towel. Repeat for the second batch. Set aside.
Stirfry
2 Tbs Sesame oil for frying (or vegetable oil).
Heat the oil in a heavy duty skillet on medium high heat. I used my mondo cast iron frying pan. Add the onion. Stir fry about 3 minutes. Add the zucchini and stir fry another 3 minutes. Add the peppers and stir fry another 3 minutes (you get the idea). Add cashews, fry 3 minutes. Add the drained water chestnut slices, fry 3 minutes. By this time the zuccini and peppers should be softened. Add the teriyaki sauce and bring everything up to heat. Add the tofu and gently fold it in.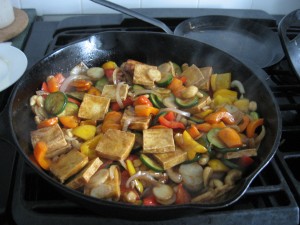 Layer up
Put one spoonful of rice in a bowl. Top with teriyaki and veggies (you can add cooked chicken if you want to…good way to use left over roast chicken). Add a spoonful of grated carrot and one of braised cabbage and top with a healthy dollop of spicy yoghurt sauce. Break out the chopsticks and dig in.
Note: since I have a vegetarian and a carnivore I made up a Flat Roast Chicken. It's super easy and requires very little fuss. I put it on before I started the rice and it was ready to go by the time I was layering up. It took about 50 minutes @ 400F in a gas oven…the recipe gives you the internal temp if you are using a conventional or convection oven.